First of all .. Happy Memorial Day Weekend, in remembrance of all of our service members who died serving our country! God Bless those who today serve our country!
Our president has yet to have a balanced budget in his entire term.  Whacked!  Why does he feel (and yes Bush too) he is responsible for corporate bail outs and they how now to kick start the economy? Can't they just let the courts figure it out, chapter 11 works even for the big guys.  They can't even allocate the billion which he gave out in 09, and when you talk about fraud, I just don't understand.  Can't they just stick to their initial design, keep our roads and highways un-congested.  My local government feels we need a baseball stadium (govt entity that will never pay taxes) and wants to increase my sales and property tax instead of worrying about our roads and education for our children.  Keep us safe and and help those who really need it.  Our state (NC) gives an incentive to our low socioeconomic mothers to have more children, more food stamps $$, child care $, unlimited health care $$$ and subsidized rent $$, and there is no limit, why do you think our hispanic friends have multiplied so?
sorry to be off track …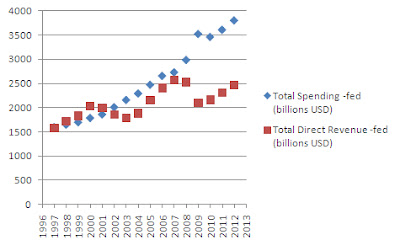 What do you think this has done to our debt?  As of last year, for every dollar I give in taxes and its in the thousands, 40 cents of every dollar goes to paying off our debt.  DID YOU HEAR THAT? 40 cents of every dollar goes to paying debt!  Fortunately for Clinton he had the Internet boom and almost turned a positive trend for more revenue than spending.  Unfortunately G Bush decided to start a war and look at his spending .. uhg.  And while it started quite a trend, Bush ended his term helping Bank execs get out of their real estate trouble and because of Jimmy Carter wanting everyone to be a home owner, more than 30% of all homeowners today owe more on their house than what its worth.  Some people should rent, really!  Now lets jump to our current President, President Obama, who thought he was going to save the day by kick starting our economy with by allowing our government to delegate where to spend the trillions, which we have yet to allocate and with all the fraud that has taken place, I predict about 50% will be beneficial.  And some people want me to give our government more money?  You're crazy, I don't care who's in charge, their spending spree is WHACKED!
I know how to fix the problem.
Government is designed to keep us safe, improve our roads and help those who need it.
But what they do which directly affects their revenue is regulate.  And that they do.  For example, the Obama care bill forced the medicare bill to go from an 11 page document to more than 1200 pages of regulation, there is only one type of person who can read this bill .. and thats a lawyer, great!  Stay outta of my health care everything is fine.  Forcing our medical code system to go from 900 icd9 codes to more than 16000 .. WHACKED!
When things are going well, our government should tighten regulation, put some revenue in a slush fund, so when times like these they can loosen regulation (reduce taxes too) and allow our small businesses and entrepreneurs grow like wild fire. Give the money to the people who know and want to create wealth, without fraud and who know how to spend.  I agree, that during tough times we need to spend more, but not the government, they need to give it the millionaires who can do something with it, create wealth, create jobs, ultimately improve the economy.  And when things are tough, they have built up a slush fund which could last.  Aren't we suggested to have a 3-6 month savings just in case?  Why wouldn't we expect our government to do the same?
Our government politicians vote themselves a raise, have better health care than any other government employee and have pensions.  WHACKED .  These people are supposed to serve us and represent the people, they have no clue because most are selfish, arrogant, biggots and receive thousands from lobbyist who truly decipher their vote not us, the voters!
How about this .. no politician will get a check if spending is more than revenue. .. PERIOD .. Most politicians are lifers and I can't stand it .. they all need term limits.  Our government is WHACKED!